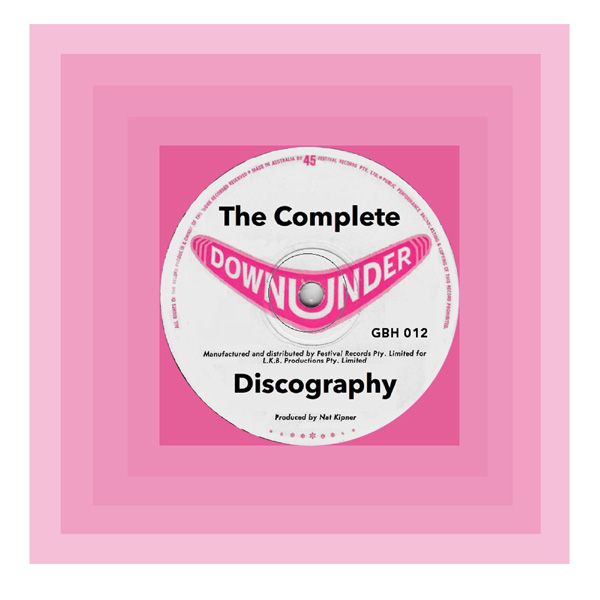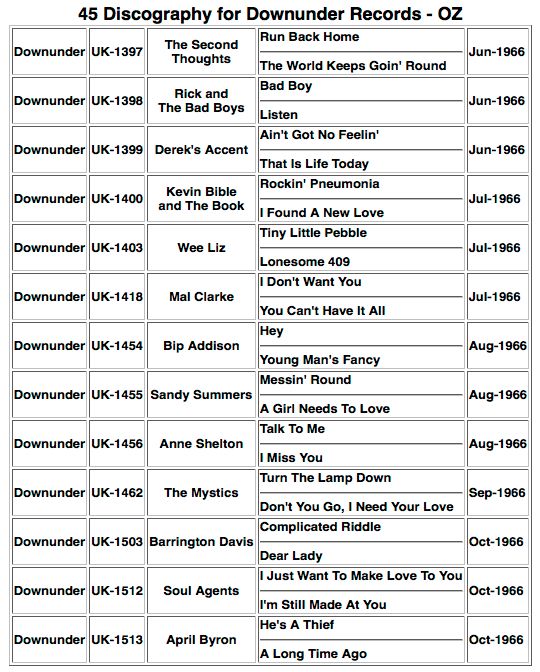 Downunder was one a shortlived Australian Sixties labels -- it lasted only five months, from June to October 1966, and released just thirteen singles. It was set up by producer-engineer Ossie Byrne and producer-songwriter-entrepreneur Nat Kipner to release recordings they made at Ossie's St Clair Studios in Hurstville. All thirteen singles were manufactured and distributed by Festival Records.
The label was owned by LKB Productions; it is probably safe to assume that Nat Kipner was the "K" and Ossie Byrne the "B" in this partnership. According to historian Bill Casey, Derek Lee, a Wollongong singer-songwriter who was a friend of Ossie Byrne, recorded demos at St Clair studio. Derek won a talent contest on Johnny O'Keefe's TV show Sing Sing Sing, the prize being a trip to England and when Byrne and The Bee Gees left Australia on the Fairsky in January 1967, Derek Lee was with them. These associations makes it probable that Derek Lee was the "L" in LKB. In addition, the B-side of the Derek's Accent single was a song written by Lee.
The Downunder singles were either produced solely by Nat Kipner or co-produced by Kipner and Byrne. Both sides of the Barrington Davis single were written by Nat and Ossie, and several other songs --including those on the Bip Addison single -- were written collaboratively by Maurice Gibb and Nat Kipner. Downunder is of considerable interest to Bee Gees aficionados, since it operated during the extraordinarily fertile period when the Bee Gees were working almost round the clock at the St Clair studio and collaborating freely with almost all the other performers who came through the studio.
"June and July (1966) witnessed the Bee Gees virtually living at the St Clair studio, with all night recording sessions involving themselves and other artists for whom they provided songs and musical backing. Production duties were shared around between Nat Kipner, Ossie Byrne and the Bee Gees themselves."
Luckily, virtually all of the Bee Gees' St Clair recordings have survived and were collected on Festival's Brilliant From Birth CD compilation, including their own versions of "Coalman" and "Exit Stage Right" (later covered by Ronnie Burns) as well as The Bee Gees' own breakthrough hit "Spicks and Specks". Many of the recordings made at St Clair during 1966 were released on other labels like Leedon, Kommotion, Spin, Go!! and HMV, including albums and singles by Marty Rhone, Steve & The Board, Tony Barber, Ronnie Burns, Dinah Lee, Jeff St John & The Id, Toni McCann and even an album track by The Twilights.
The most obscure release on Downunder is the only known single by "Wee Liz", a teenage singer from Wollongong, whose real name was Elizabeth Reed. Liz performed around the Wollongong area, backed by local groups such as The Fyrebyrds, Four Sale and The Sons of Adam, and amassed a loyal following at teenage dances in the Illawarra region in 1965-66. How she came to record for Downunder is not known, although it's possible that she had come to attention of Derek Lee, who was also from Wollongong. According to a Sydney collector on the Phoenix Rising web forum, it was reported at the time that only four copies were sold, and that the collector himself owns the only known survivng copy.